これは、左カラムのボックスです。現在は100ピクセルの高さです。
ウィキのタイトル、ウェルカムメッセージ、タイトル画像は、ここに来ます(このボックスはオプショナルです)。
 これは、左カラムのセンテンスです。
I am a box containing content in the left column.
This set of main page <tags/> allows for easier main page design and is the recommended method of creating layouts for main pages.
Using the following tags, you can create a main page that will work with the ad and will be compatible with any future changes Fandom may need to make to the main page layouts.
<mainpage-leftcolumn-start />
右カラムの内容
<mainpage-endcolumn />
<mainpage-rightcolumn-start />
左カラムの内容
<mainpage-endcolumn />
タグの使用法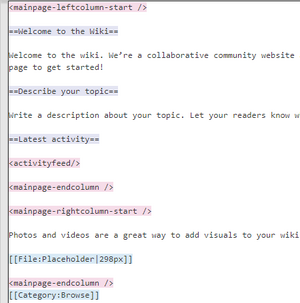 "leftcolumn"タグで、可変幅の左カラムを始めます。
<mainpage-leftcolumn-start />
カラムはこのタグで終わります。
<mainpage-endcolumn />
次の"leftcolumn"で300px幅の右カラムを始めます。
<mainpage-rightcolumn-start />
左カラムもこのタグで終わります。
<mainpage-endcolumn />
After the end of the rightcolumn tag you can place anything you wish, and make them 100% page width. (Please note this is recommended against, especially on shorter pages.) However, you will need to add the following to ensure it appears below the columns:
<br style="clear:both;"/>
これは、右カラムの300x600pxのボックスです。 Fandomの広告はここに来ます。
これは、右カラムのセンテンスです。
これは、右カラムの500pxの高さのボックス中にある長いセンテンスです。
秀逸な記事や画像、人気カテゴリのリスト、
埋め込みウィジェット
、
ビデオ
や
投票
、
カレンダー
などといったあなたのお好きなウィキのコンテンツをここに配置させることができます。
 これは、最後のmainpageタグに続き、100%の幅になります。